Baked Cider Donuts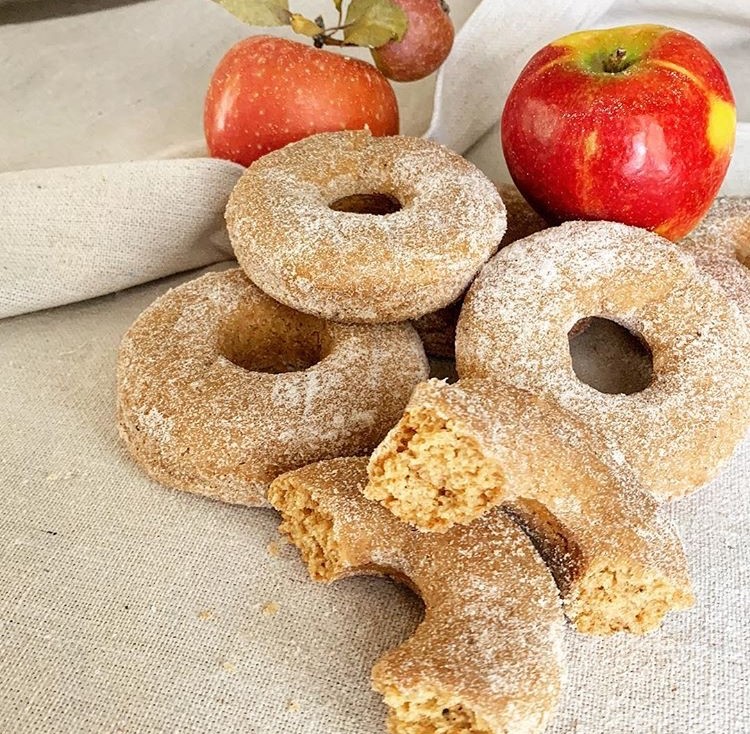 Happy National Donut Day! In honor of this beloved treat, we thought we would share the coveted recipe for Chef Ashley Thomas  & Chef Morgan Perkins' Baked Cider Donuts. These created a lot of buzz at The Cook's Warehouse last year, so they are coming back for an encore appearance.
Join Ashley Thomas for "Autumn Baking Hands On" at our Midtown location on October 12, 2019 to make these special treats, and so much more!
Pumpkin Coffee Cake

Cider Doughnuts (BACK AGAIN!)

Cheese & Black Pepper Sables

Caramelized Onion Focaccia
Classes for July, August, September, and early October will go live on our website June 15, 2019. Don't miss out!
BAKED CIDER DONUTS
Yield: 12 to 16 donuts
CIDER PASTE
¼ cup + 2 Tbsp (90 gram) Apple Cider
3 Tbsp Unsalted Butter
1/3 C = 1 Tbsp (50g) All Purpose Flour
DONUT
2 C (255 g) All Purpose Flour
1 tsp Baking Soda
¾ tsp Baking Powder
1 ½ tsp Ground Cinnamon
½ tsp Ground Allspice
½ tsp Ground Clove
¼ tsp Freshly Ground Nutmeg
¾ tsp Salt
¼ C Boiled Cider (or Cider Syrup)
1/3 C Apple Butter
1 Egg, Large
½ C (110g) Light Brown Sugar
½ C (112g) Granulated Sugar
½ C Sour Cream
FINISHING
1 cup caster or super fine sugar
2 tsp Ground Cinnamon
¼ tsp Allspice
¼ tsp Ground Clove
6 Tbsp Unsalted Butter, melted
Directions:
Preheat the oven to 350˚ F and grease your donut pans with room temperature butter or non-stick spray.
Make the Cider Paste:
Place the cider and butter into a small saucepan and bring to a simmer over medium-low heat. When the mixture has reached a simmer, turn off the heat and pour the flour into the liquid mixture, stirring constantly. The mixture at this moment will begin to look like mashed potatoes. Put the pot back over low heat and continue to cook until the dough forms a glossy ball in the center of the pot. You will see some residue stuck to the bottom of the pot as it cooks; this is a good thing. Let the paste cool for a minute and then flatten it into a thin disc, wrap in plastic wrap and chill in the refrigerator.
Make the Donuts:
While the cider paste chills, combine all the dry donut ingredients in a medium bowl and whisk to distribute the ingredients (flour, baking soda, baking powder, spices and salt).
In a blender or food processor, combine the wet ingredients (boiled cider, butter, egg, brown sugar, sugar, sour cream) and give them a brief blitz to smooth it all out. Add the chilled cider paste and mix again until smooth.
Pour the wet ingredients into the dry and mix with a spatula or wooden spoon until it just comes together – do not overmix! Prep a piping bag with a large round tip and transfer the batter to the piping bag. Pipe the batter into the prepped donut pans, filling them about ¾ full.
Bake in the 350˚ F oven until the donuts are cooked and feel springy (12 to 15 minutes) rather than just soft to the touch. Take the donuts out of the oven and let them rest in the pan for a minute or two before turning out onto a wire rack.
Finish the Donuts:
While the donuts cook, mix up your spiced finishing sugar by combining the caster sugar, cinnamon, allspice and clove. Brush the entire surface area of the baked donuts with the melted butter and let them sit for a minute. Then coat the donuts in the spiced finishing sugar and enjoy!
Chef's Notes:
You can make your own boiled cider by reducing 1 C of cider to ¼ C.
Caster sugar is simply a very finely ground granulated sugar. If you can't find it, try looking for superfine sugar. You can also put some sugar in a food processor and grind it down a bit, but it won't be as fine and may feel a bit grittier on the donut.
If you only have one donut pan, the batter will keep long enough to allow you to cook your tray, wash it and refill it until you've used all the batter.