Cold Weather Recipe: Taiwanese Beef Noodle Soup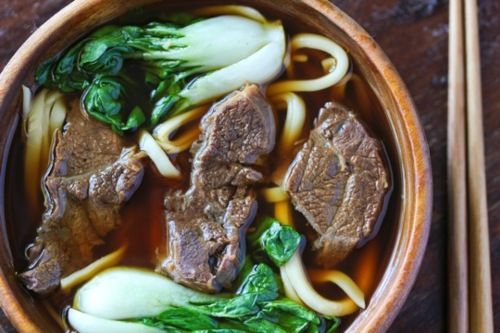 Beef noodle soup is considered a national dish in Taiwan, and this version was inspired by my travels there. It is a fantastic cold weather cooking project, perfect for these rainy days of January.
Taiwanese Beef Noodle Soup
For the soup
3 to 4 pounds beef shanks with bone still in (or beef short ribs)
5 garlic cloves, smashed
1 inch knob fresh ginger, peeled and sliced
1 bunch scallions, cut in 2-inch slices
1 plum tomato, quartered
1 teaspoon Chinese five spice powder
1/4 cup packed brown sugar
4 to 5 whole star anise pods
2 Thai chiles, split lengthwise (optional)
2 tablespoons chili bean sauce
1/2 cup Chinese (Shaoxing) rice wine
1 cup good-quality soy sauce
1 (14.5 ounce) can chicken stock
10 cups water, or enough to cover beef
To serve
1 pound baby bok choy or broccoli rabe
1 pound Chinese egg noodles or wheat noodles
Chopped fresh cilantro, if desired
For the soup, in a large stockpot, cover the beef shanks with water and bring to a boil. Immediately drain the water and set the beef aside.(This step helps remove impurities to make a more pure soup.) Clean out the stockpot (or have another ready).
Add the par-boiled beef, garlic cloves, ginger, scallions, tomato, five spice powder, brown sugar, star anise, chiles, chili bean sauce, rice wine, soy sauce, chicken stock, and water to the pot.
Bring the mixture to a boil, reduce heat, and simmer for approximately 2 hours, or until the beef is fork tender. Turn off the heat and shift the lid to allow steam to escape. Let meat stand in the cooking liquid for another hour.
Remove the beef to a cutting board. Pour the stock through a cheesecloth-lined sieve into another pot. Discard the vegetable solids. Slice the beef and return to the stock. (At this point, it's best to refrigerate soup overnight, or up to three days. The flavors will improve while resting and the fat will be easier to remove.) Skim the fat from the surface, and return the soup to a boil.
To serve, bring a large pot of water to a boil. Add the bok choy and blanch until bright green and tender, about 2 minutes. Remove the bok choy with a spider and set aside. Bring the water back to a boil. Add the noodles and cook according to package directions. Strain.
Divide noodles and bok choy among bowls. Ladle the beef and hot broth into the bowls. Garnish with chopped cilantro and serve warm.