Entertaining Recipe: Sausage Stuffed Mushrooms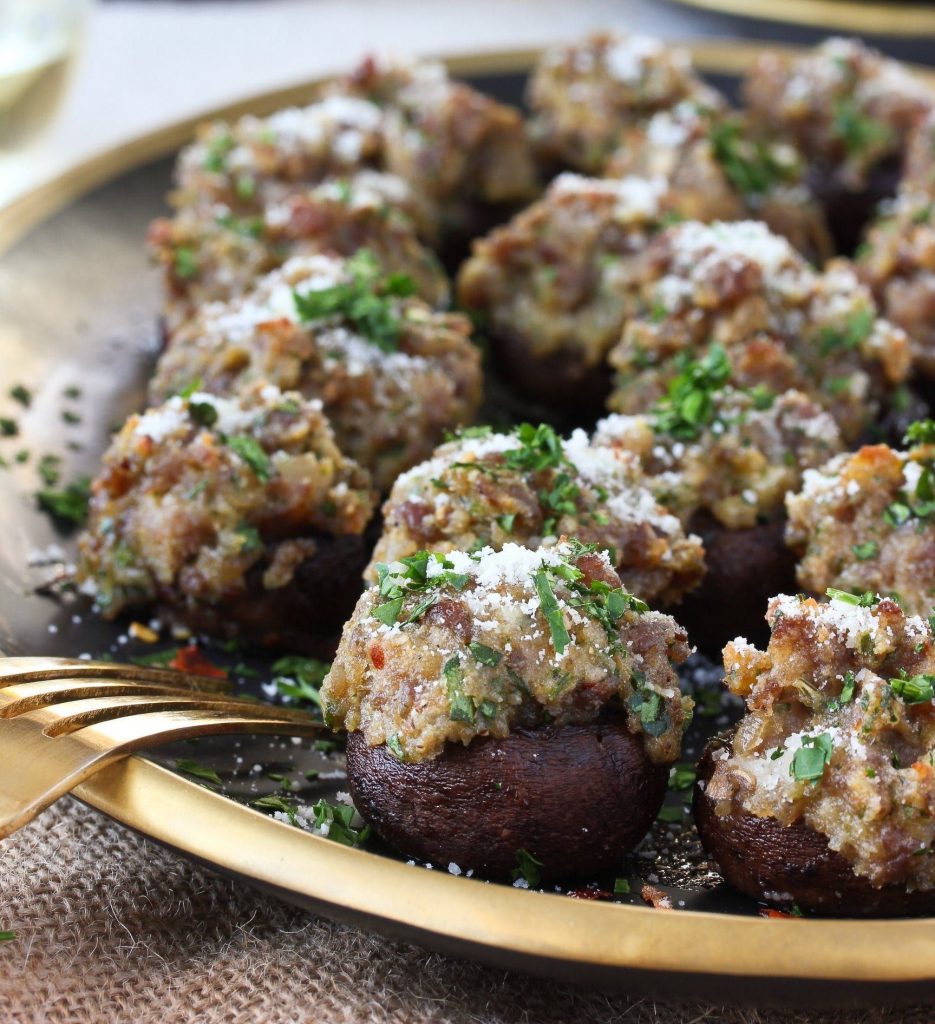 Looking for the perfect New Year's Eve recipe? We've got you covered with these fantastic sausage stuffed mushrooms, which always wow the crowd.
Sausage Stuffed Mushrooms
Yield: approximately 36 mushrooms
4 tablespoons olive oil, divided
1 1/2 pounds whole baby bella mushrooms (about 36 mushrooms)
1 pound ground mild Italian sausage
2 large shallots, minced
2 large garlic cloves, pressed or finely minced
1/4 cup dry sherry, marsala, vermouth, or white wine (I used sherry)
1 large egg
1/2 cup bread crumbs
1/2 cup grated Parmesan, plus more for serving
1/4 cup heavy cream
1/4 cup packed finely minced Italian parsley, divided
Kosher salt and freshly ground black pepper
Red pepper flakes (optional)
Preheat oven to 350°F with a rack in the middle position. Place a baking sheet near your work surface.
Place a mushroom in your palm, cap side down. Use your other hand to snap the stem off, leaving a well in the cap for stuffing. Mince the stems and set aside. (A bench scraper makes easy work of this.)
Heat 2 tablespoons of olive oil in a large skillet over medium-high heat. Add the sausage and cook until golden brown, 8 to 10 minutes, using a wooden spoon to crumble into small pieces. Use a slotted spoon to transfer the sausage to a large mixing bowl. Do not drain the fat from the skillet.
Reduce heat to medium. Add the shallots to the sausage fat and cook until softened, 3 to 4 minutes. Add the garlic and sherry and let simmer for a minute or so. Add the minced mushroom stems and cook until tender, 5 to 7 minutes. Transfer the shallot mixture to the mixing bowl with the sausage.
Stir the egg into the shallot-sausage mixture, then add the bread crumbs, Parmesan, cream, and 3 tablespoons of parsley to the bowl. Stir until well combined. Season filling generously with salt, freshly ground pepper, and red pepper flakes if using. You want the mixture to be a little saltier than you think necessary, because the mushroom caps will mellow out the flavor.
Place the mushroom caps on the large baking sheet and toss with remaining olive oil. Flip them so the well-side is facing up and stuff each one with a generous amount of filling using a spoon. Bake the mushrooms for 22 to 25 minutes, until hot and golden. Transfer to a serving platter and garnish with the remaining parsley and additional Parmesan. Serve while warm.
Make-Ahead Steps: The filling can be made up to 3 days in advance. The stuffed mushrooms can be cooked up to 4 hours in advance and held at room temperature. Warm in the oven before serving.
Recipe created for the The Kitchn by Nealey Dozier