Summer Vegetable Salad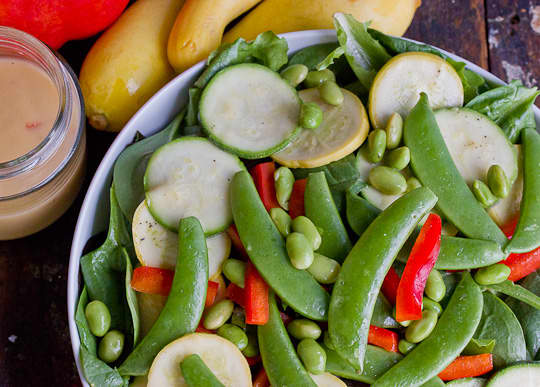 Raw Vegetable Salad with Creamy Italian Dressing
SERVES as many or as few as you'd like
INGREDIENTS
For the dressing:
1/4 cup red wine vinegar
1 clove garlic, sliced
1 teaspoon Dijon mustard
1/2 teaspoon sugar
1/2 teaspoon salt
1/2 cup olive oil
2 heaping tablespoons finely chopped red bell pepper
Additional salt and pepper, to taste
For the salad:
Yellow squash and zucchini, thinly sliced
Sugar snap peas
Edamame and/or field peas
Red bell pepper, thinly sliced
Fresh salad greens
INSTRUCTIONS
For the dressing, combine the red wine vinegar, garlic, Dijon, sugar, and salt in a blender, and puree until the garlic is minced. With the blender running, very slowly add the oil in a thin stream and blend until creamy. Stir in chopped bell pepper and season with additional salt and pepper.
For the salad, toss the vegetables (without the greens) in a desired amount of vinaigrette and marinate for about 15 minutes. Pile the vegetables onto the salad greens and season with salt and pepper. You could also wait to toss the salad at the table, but I would still marinate the squash and zucchini in dressing for 15 minutes beforehand.