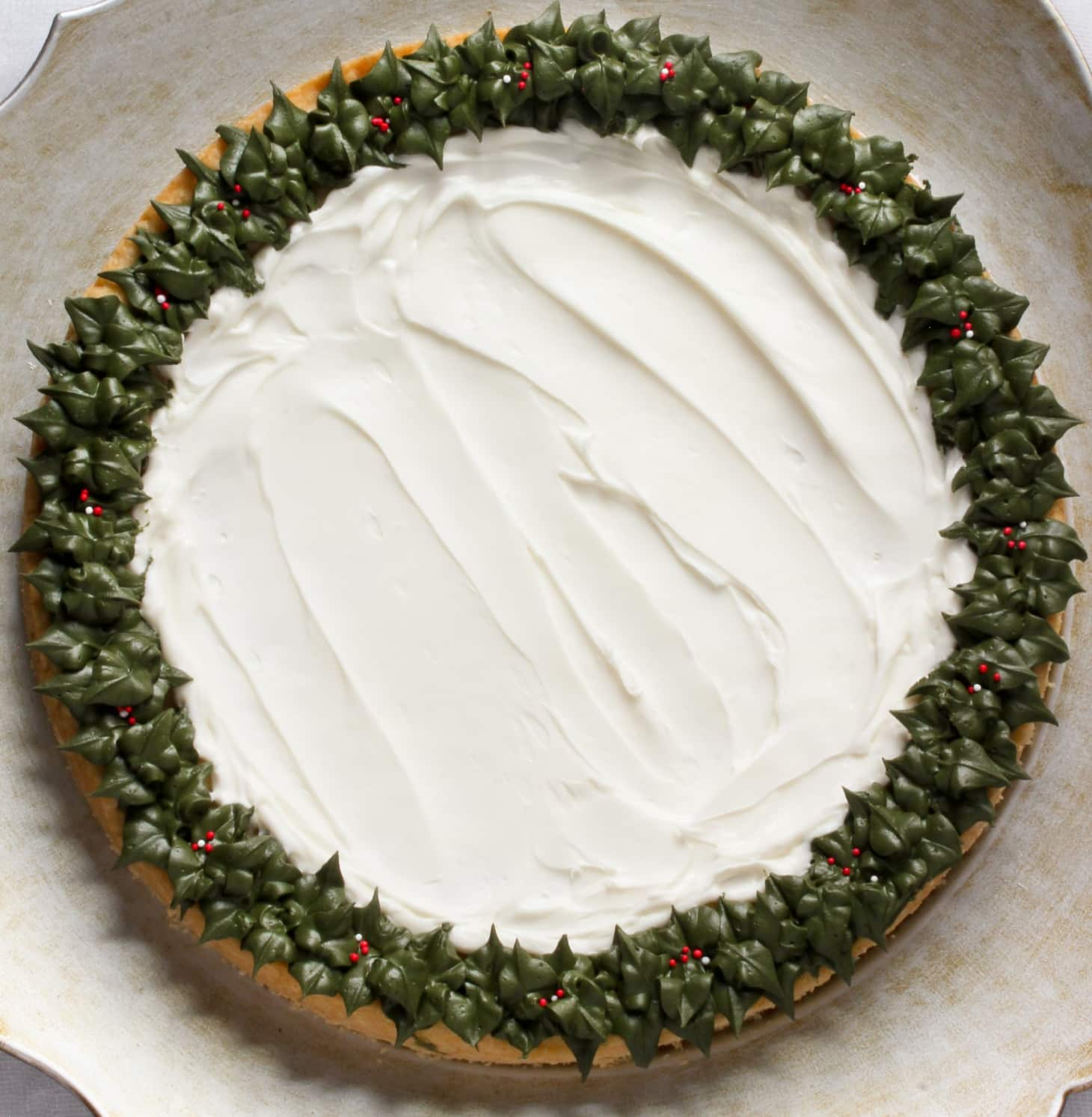 Christmas Sugar Cookie Cake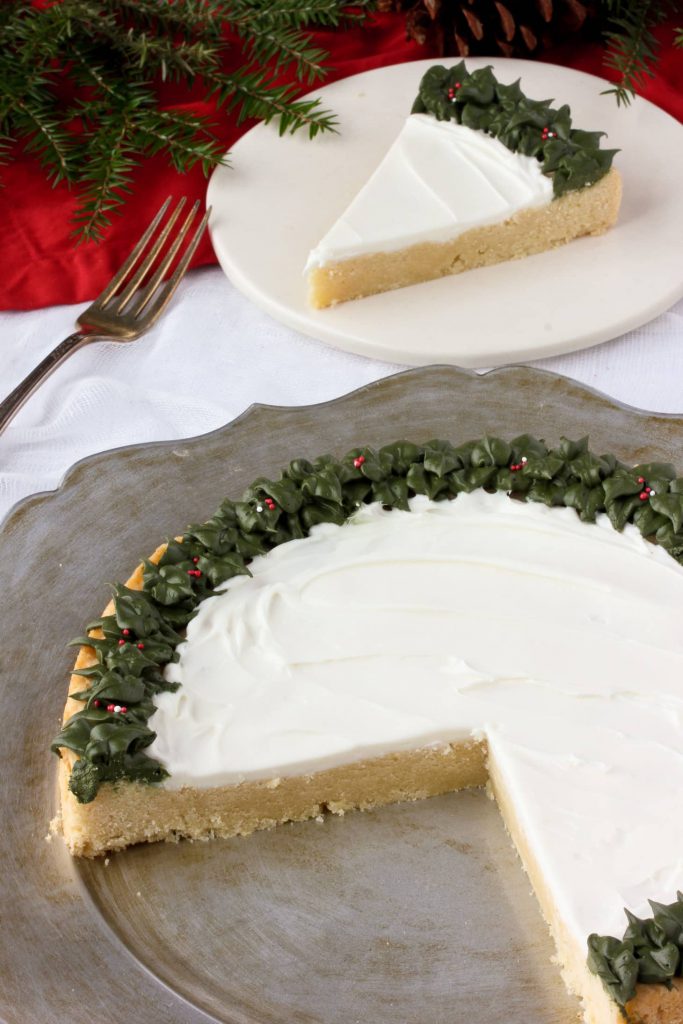 Christmas Sugar-Cookie Cake
For the dough:
1 cup unsalted butter, softened at room temperature for an hour
2 ounces cream cheese (1/4 of a standard cream cheese package)
1 cup sugar
1 large egg
1/2 teaspoon vanilla extract
1/2 teaspoon almond extract
3 cups (14 ounces) all-purpose flour
1 1/2 teaspoons baking powder
1/2 teaspoon salt
For the frosting:
1 (8-ounce) package cream cheese, at room temperature
2 cups powdered sugar
1/2 cup (4 ounces) unsalted butter, at room temperature
1 teaspoon vanilla extract
Green food coloring (I used Wilton Juniper Green)
Red nonpareils
Preheat the oven to 350°F. Spray a 9-inch cake pan with baking spray and line with parchment paper (see how here).
Combine the flour, baking powder, and salt in a medium bowl and set aside. Combine the butter, cream cheese, and sugar in the bowl of a stand mixer with a paddle attachment (or use an electric hand mixer) and beat on medium speed until light and fluffy, 2 to 3 minutes. Add the egg, vanilla, and almond extract and mix until incorporated. Then add the flour mixture, bit by bit, to the butter mixture until fully incorporated.
Press the dough evenly into the prepared cake pan, using your fingers to smooth the surface. Bake the cake until the edges just begin to turn golden, 26 to 28 minutes. (The center should still be soft.) Allow to cool completely. Run a knife along the edges of the pan before turning out and frosting. Store the cookie cake in an airtight container until ready to frost and serve; the cake is best served within 2 to 3 days.
To make the frosting, combine the cream cheese, sugar, butter, and vanilla in the bowl of a stand mixer fitted with the paddle attachment (or with an electric hand mixer), and beat on low speed until incorporated. Increase the speed to high and beat until light and fluffy. Scoop out half of the frosting and set aside. Add a dollop of green food coloring to the remaining frosting and continue beating, adding more color as necessary, until desired shade of green is reached.
Using a small offset spatula, spread the white frosting over the top of the cookie cake. Transfer the green frosting to a piping bag fitted with a leaf tip (I used Wilton 352). Hold the piping bag so the points of the tip are horizontal, like a bird's beak, and position just over the edge of the cake. Squeeze hard to create the base against the cake, then quickly raise the tip, releasing pressure at the same time. (I recommend practicing a few leaves on parchment paper first.)
Pipe a row of leaves around the perimeter of the cake, with the tips of the leaves facing away from the center of the cake. Pipe a second row of leaves inside the first row, this time with the tips of the leaves pointing towards the center of the cake. Pipe a final row of leaves on top of the first two rows, alternating the leaves to point in and out, using the seam as the guide. (I find it's easiest to rotate the cake plate as I go, so that whatever I'm piping is closest to me.) And finally, use tweezers to place clusters of red nonpareils evenly along the piped leaves.
Leftovers will keep for several days kept in an airtight container.
Recipe originally developed for The Kitchn by Nealey Dozier Thompson