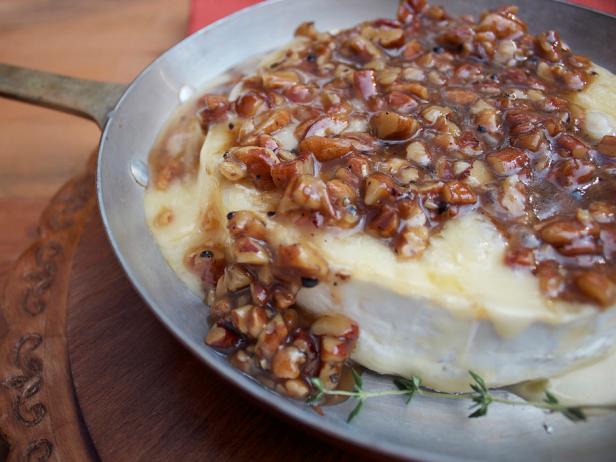 Entertaining Recipe: Maple Pecan Baked Brie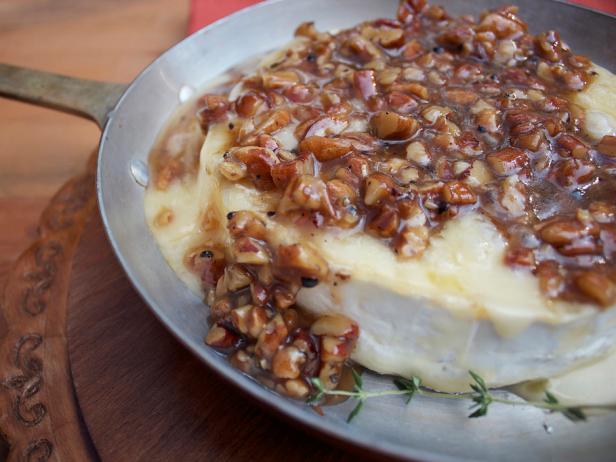 This savory-sweet appetizer is a decadent way to start any feast, and I promise there won't be a bite left over. A creamy Brie is baked to perfection and then smothered with a spicy pecan praline sauce. Be generous with the coarsely ground black pepper, as it really sends the dish over the edge!
1 (16-ounce) wheel of Brie
1/2 cup (1 stick) unsalted butter
2 tablespoons packed brown sugar
1/3 cup pure maple syrup
1 cup toasted and chopped pecans
1 teaspoon coarsely ground black pepper
Crackers, to serve
Preheat oven to 350 degrees.
Shave off the top rind of the Brie (it is easiest to do this after it has been in the freezer for about 20 minutes). If the Brie came in a wooden box, return it to the original container. If not, create a makeshift "box" out of a few layers of aluminum foil, leaving the top of the Brie exposed.
Place the cheese on a rimmed baking sheet. Bake until warm and gooey, 15 to 20 minutes. Remove from the oven and allow to cool for 20 minutes before serving. Carefully transfer to a serving platter; you do not want the rind to puncture, if possible.
While the Brie is cooling, make the praline sauce. Melt the butter in a saucepan over medium heat. Add the brown sugar, maple syrup, and pecans. Cook, stirring constantly, until all of the ingredients are well combined, 3 to 5 minutes. Stir in coarsely ground black pepper and remove from heat. Allow the mixture to cool for 5 to 10 minutes, until it has thickened up just a bit. Dollop the warm sauce over the baked cheese. (There may be extra praline sauce.) Serve with assorted crackers.
Recipe originally developed for Cooking Channel by Nealey Dozier Thompson